B2: Characterization and integrative bioinformatic modeling of metabolic and micromilieu factors promoting survival or control of Leishmania parasites
B2: Characterization and integrative bioinformatic modeling of metabolic and micromilieu factors promoting survival or control of Leishmania parasites
L. major is a protozoan parasite that causes chronic, but ultimately healing skin lesions (LCL). Parasite and disease control requires a Th1 immune response, the production of nitric oxide (NO) by type 2 NO synthase (NOS2) and the generation of reactive oxygen species (ROS) by NOX2. However, significant quantities of L. major will survive lifelong in myeloid cells and fibroblasts even after clinical cure, the metabolic requirements of which are unknown.
The overall goal of our tandem project for two PhD students is to unravel the impact of ROS and NO on the metabolome of host cells and to define microenvironmental factors that facilitate parasite persistence or control. The doctoral candidate of the laboratory part will analyze the glucose, amino acid and fatty acid metabolism of Leishmania and host cells in the presence and absence of NOX2 and/or NOS2 or exogenous ROS or NO donors in vitro and ex vivo. In addition, the hypothesis will be tested that micro milieu factors (e.g., pH, high tonicity, ROS, NO) regulate the ability of Leishmania to secrete exosomes, which contain virulence factors and immunomodulatory molecules, using innovative microscopic techniques (iSCAT). Furthermore, transcriptome and metabolome analyses, immunological studies and confocal fluorescence microscopy of human skin lesion samples will be used to investigate the molecular mechanisms, by which a topically applied reactive chlorine oxygen species-containing compound (sodium chlorosum) promotes healing of human LCL lesions as observed by us in prior clinical trials.
The bioinformatical part of the project aims to understand the positive and negative regulation of the anti-Leishmania immune response by metabolic and micromilieu factors using an integrative in silico modeling approach that is based on published and novel experimental data. The respective doctoral candidate will carry out parasite/immune cell interactome mapping and analyze the impact on host cell function by network analysis. A comprehensive in silico model of immune cell signaling and metabolic events in the host cell will be established that also takes into account micromilieu factors in the host cell niche during Leishmania infection. Boolean regulatory and metabolic modeling interpolates between system states in host cells, which allows to systematically simulate parasite persistence under different oxidative (e.g., presence/absence of ROS or NO), metabolic (e.g., glycolysis vs. oxidative phosphorylation) and host cell conditions (e.g., myeloid cells, fibroblasts) and at different time-points of infection. The studies will be complemented by an in silico screening of potential drug acting mechanisms of sodium chlorosum.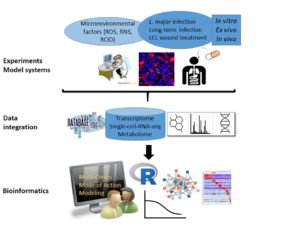 +Supervisors
Wasserturmstraße 3/5
91054
Erlangen
Wetterkreuz 15
91058 Erlangen-Tennenlohe